Healthwatch South Gloucestershire takes local views to Westminster
Last week we met MPs in Westminster to discuss YOUR feedback about health and care services in South Gloucestershire.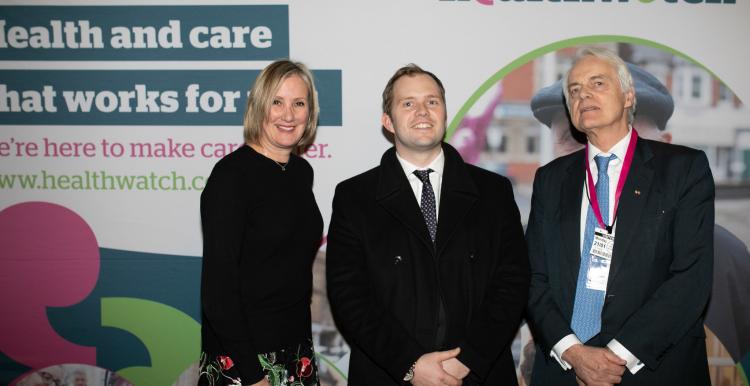 On Monday we travelled to London to join forces with over 100 other local Healthwatch organisations at the annual parliamentary reception.
Attended by parliamentarians, as well as key decision makers from across health and social care, the event provided an opportunity for us to speak with MPs about the work we have been doing and the experiences of South Gloucestershire residents, including:
Hivewatch, an ongoing partnership with The Hive (Avon), carrying out Enter and View visits with their service users and looking at health and social care services from the perspective of someone with a learning disability
looking at South Gloucestershire's rehabilitation, reablement and recovery (3Rs) programme, which aims to support people's discharge from hospital and enable them to settle back into their own homes. Our work on this has been a combination of Enter and View visits and patient interviews post discharge to better understand their experiences of the programme
With local services going through rapid change, and with the launch of the NHS Long Term Plan, it has never been more important for services to involve the people that they serve in shaping the future of health and social care.
The good news is that Healthwatch is getting more people to come forward to share their views on the issues in their areas.  When acted upon by commissioners, care providers and clinicians, people's experiences and ideas are leading to safer, better quality care. In this way people are where they should be – at the centre of their service.
"It was a great opportunity for one of our volunteers to attend Parliament and highlight local people's experiences to parliamentarians. The efforts of our dedicated team of staff and volunteers at helping to influence the way health and social care services are delivered in B&NES were praised by all we met, particularly by Healthwatch England."
Held in the Houses of Parliament, the reception was hosted by national body Healthwatch England to mark the launch of its sixth annual report.
To read more about what Healthwatch England and the rest of the network have achieved over the last year see their annual report.
Share your views
If you have an experience about health and social care services in South Gloucestershire that you would like to share, get in touch.