Vaccine programme musn't 'breed complacency' says Boris during his visit to Bristol
If you're over 80 and still haven't had your Covid-19 vaccine the message is – you'll be contacted very soon. By the end of this week, every neighbourhood area in the region will have a GP practice vaccination centre up and running.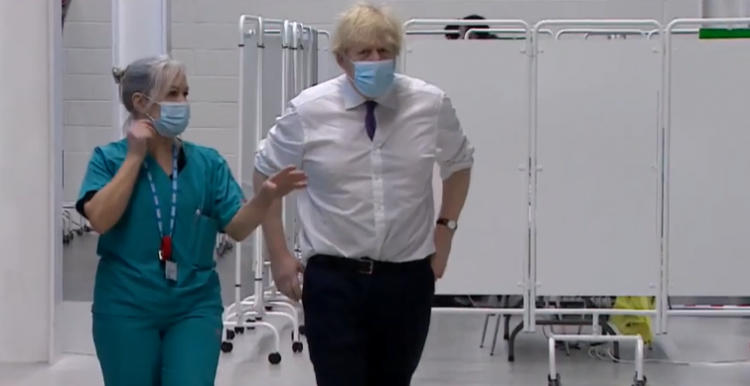 Bristol's Ashton Gate Stadium 'super vaccination hub' is among the sites to start operating this week and had a visit from Prime Minister Boris Johnson on Monday (Jan, 11th) who was keen to see how vaccinations were going. This will bring the total vaccination sites up to 19 in the Bristol, North Somerset and South Glos area.
Volunteers are being sought to help out with the mass vaccination programme, please see the information in the grey box below.
The PM said around 40 per cent of all 80-year-olds have had a vaccine as well as 23 per cent of care home residents. He added: "We don't want the vaccine to breed any type of complacency however about the seriousness of the pandemic."
Alongside people over the age of 80, care home residents and staff have been set as the highest priority group by the independent Joint Committee on Vaccination and Immunisation (JCVI).
While the approval and delivery of the Oxford vaccine means the NHS will be able to ramp up its vaccination efforts, it will still take some time to reach everyone who needs to be vaccinated. Please don't ring your surgery about the vaccine the NHS will be in touch when it is your turn. See more here https://bnssghealthiertogether.org.uk/covid-19-mass-vaccination/
HOW TO VOLUNTEER WITH VACCINATION PROGRAMME
St John Ambulance (SJA) is currently working through the charity's existing networks to sign up vaccination volunteers – this route is now open to members of the public who have not previously volunteered with SJA.
NHS Volunteer Responder is signing up its existing network and the public for steward volunteer roles. These roles will largely be supporting the vaccination centres which are rolling out over the coming weeks as supplies allow.
In the meantime, members of the public who are able to support their neighbours and the NHS through a number of roles – including food or medication deliveries, lifts to medical appointments or 'check-in and chat' phone calls – can do so by signing up to  the NHS Volunteer Responder programme.
Many local NHS trusts are also using their own volunteer schemes and you can check their websites for details.
For further information please check the frequently asked questions.