Helping you make an informed choice about the COVID-19 vaccination
When COVID-19 vaccination rollout began, there was a great deal of misinformation about the vaccine. To help people to make an informed decision, we hosted a series of webinars with experts who could provide reliable guidance and answer questions.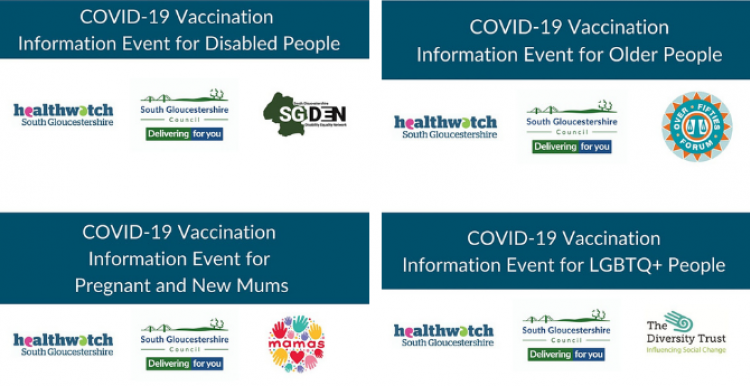 To tackle the widespread misinformation about the vaccine, we joined forces with a number of other local organisations and representatives from the NHS to run six online events for people who were likely to be particularly vulnerable to COVID-19: disabled people, older people, pregnant women and new mums, and LGTBQ+ people.
Our goal was to ensure people could ask any questions they had about the vaccine without judgement. The webinars were an opportunity for us to listen to their concerns and the barriers people were facing to getting the vaccination.
Our many guest speakers reflected the diverse population across South Gloucestershire, and in many cases, spoke to communities they themselves were part of. Dr Alice Humphreys, an anaesthetic registrar and transwoman who cared for COVID-19 patients in Intensive Care Units, joined us for one of our events for LGBTQ+ people. Dr Jen Phillips, a medical registrar who spoke at our first webinar for pregnant women and new mums, was pregnant at the time and had worked throughout the pandemic. Janet Spence, who was able to join us for our webinar for older people, is a retired GP but was back in service as a clinical supervisor and COVID-19 vaccinator at the time.
Jenny attended one of our webinars for pregnant women and new mums. She said: "The webinar was at the perfect time for me as I was just over 3 months pregnant and was worried about whether I should have the vaccination or not. I was then also worried about what the impact would be if I had COVID".
I found it really helpful as it gave me all the information I felt I needed to make an informed decision. I found it factual and it relieved all of my worries.
"I felt confident in deciding to have the vaccination and am pleased I made this decision at the time considering the impact COVID had on some pregnant women in their third trimester. There was a good balance of speakers who were all very knowledgeable and I think speaking to people who have been 'in your shoes' was incredibly valuable."