COVID-19 update: advice in different languages
CASS have been working closely with the Bristol, North Somerset and South Gloucestershire Clinical Commissioning Group (BNSSG CCG) over the last few months to ensure all communities in Bristol receive accessible information about COVID-19.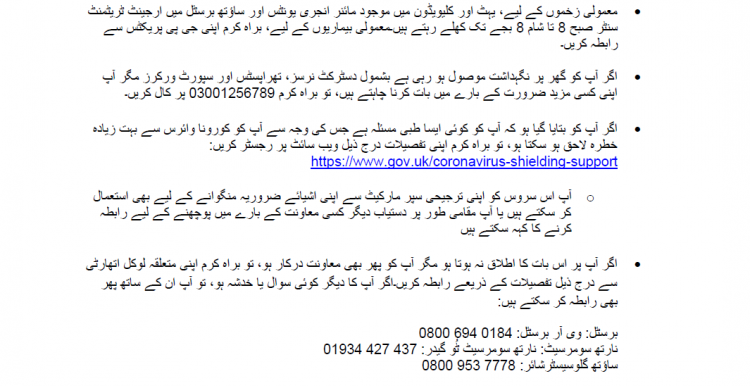 Black, Asian and Minority Ethnic groups have been disproportionately affected by the COVID-19 pandemic. With England recently entering into a second national lockdown, accessible information about the outbreak is essential to help prevent the spread of the virus.
Community Access Support Service (CASS) Bristol, along with the BNSSG CCG, have created general information leaflets on Protecting Yourself and Others and Looking After Your Mental Health.
These leaflets are available in Albanian, Arabic, Bengali, Cantonese. Farsi, Mandarin, Pashto, Punjabi, Sorani, Tigrinya, Turkish, and Urdu. Scroll down to the bottom of this page for the download links, or keep reading for the English version of the latest advice for South Gloucestershire.
The current advice for people living in South Gloucestershire is as follows:
If you are experiencing coronavirus symptoms, please use the government portal to book a test. It is important that you and anyone you live with continue to self-isolate until you get a test result. You can find more information, support and guidance on testing here.
Think Hands, Face, Space – washing your hands regularly, using a face mask in areas where social distancing is difficult, and keeping 2 metres' space between you and others will all help to reduce the spread of the virus.
If you have a continuous cough or fever, self-isolate and contact 111 if you need further advice or help.
If you need medical help, please contact your registered GP practice or 111. Support can be accessed online at 111.nhs.uk or you can call 111 for free form your landline or phone.
The Avon and Wiltshire Mental Health Partnership wellbeing line is open 24 hours a day for mental health and emotional wellbeing support: 0300 303 1320.
Please only call 999 in the event of a medical emergency. Only go to A&E if you experience a medical emergency or if 111 or your GP has advised you to do so.
For minor injuries, the Minor Injury Unit in Yate is open between 8am and 8pm. For minor illnesses, please contact your GP practice.
If you are receiving care in your home, including district nurses, therapists and support workers, and need to discuss your needs please call 0300 125 6789.
If you have been notified to inform you that you have a medical condition which means you are clinically extremely vulnerable to coronavirus, please register your details at the following website: https://www.gov.uk/coronavirus-shielding-support
You can use this service to get access to priority supermarket deliveries or ask for someone to contact you about other local support available
If this does not apply to you but you still feel you require support, please get in touch with the South Gloucestershire local authority using the contact details below. You can also contact them if you have any other questions or concerns:
South Gloucestershire: 0800 953 7778